Description.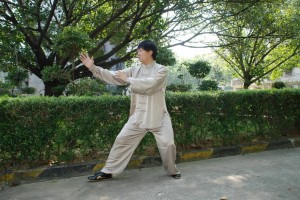 Zhao Liang was born in 1978. He is the 6th generation direct descendent of the Yang's Taichi that was developed by his ancestors in the township of Yongnin in Hebei Province, China.  Zhao is holder of a master degree (academic) from Thailand and a certified Level 7 Master of Yang's Taichi, awarded under the Chinese National Wushu Duanwei System. His official titles include:
–    Committee Member of the Xian Wushu Association
–    Vice Director of the Department of Yang 's Tai Chi Quan of Shenzhen Wushu Association
–    Deputy Chairman of the Xi'an Yongnian Yang Family's Tai Chi Association
–    Chief Coach of the Zhao Youbin Yang's Taichi Quan Association of Hong Kong
–    Director and Chief Coach of the Shenzhen Zhao Youbin Yang's Taichi Quan Academy
Zhao's grandfather, Zhao Bin (1906-1999) was grandson-in law of Yang Chenfu, the world famous 3rd generation descendant the traditional Yang's Taichi Quan. Because of Yang's teaching, Zhao Bin became a Great Grand Taichi Master and had successfully passed his skills to his son Zhao Youbin and then to his grandson, Zhao (Liang). Indeed, Zhao began Taichi training since six-year old. Because the family plays genuinely Yang's style Taichi Quan and Weapons, Zhao has master the art of Taichi with profound understanding through lengthy training and practices. In 2000, he obtained First Class Medals in Taichi Quan and Taichi Sword events in the Handan Taichi International Friendship Association Competitions. Zhao keeps advancing his own Taichi skills and keeps promoting Taichi to other people around him. While studying abroad, he assists his father to participate in various teaching and cultural exchange programmes. His footprints have covered many parts of Thailand and his students include senior leaders of the Thai community, high officials of the Thai Government and various foreign Ambassadors and Commissioners.
Since 2007, Zhao settled in Shenzhen, China and began to teach Taichi to students of the Shenzhen Zhao Youbin Yang's Taichi Quan Taining Centre as well as to coach students coming from the Zhao Youbin Yang's Taichi Quan Association of Hong Kong. In recent years, Zhao is also seen coaching students in many parts of China including Shaanxi, Xinxiang, Yunnan, Chongqing, Heilongjiang, Hubei, Tianjin, Shandong, Hubei, Zhejiang, Guangdong etc. In recognition of his excellent experience, Zhao was invited by 2 renowned national Wushu magazine, Chinese Wushu and Wudang, to become their Taichi Course Tutors. Since the introduction of the Chinese National Wushu Duanwei System in 2008, Zhao has also been engaged in various training and appraisal activities for participating coaches and students from Hong Kong and Mainland. In Shenzhen, Zhao has trained over thousands of students from all walks of life including many from large public and private organisations. Zhao is well respected by his students. He is polite and gentle and through his gradual training and logical guidance, coupled with his personal charm and clear demonstration, students often find the learning of Taichi from him a joyful and pleasant experience.
Zhao is also devoted to the academic research of Taichi and he had assisted his father in the publication of several books on "37-Form Yang's Taichi Quan", "28-Form Yang's Taichi Quan" and "8 & 16-Form Yang's Taichi Quan", and in the making of the popular DVD series – Yang's Taichi Lectures recording the Traditional Yang's style Taichi Quan step by step in great detail. Beside, Zhao has contributed suggestions to the development of the teaching material for the Chinese Wushu Duanwei System in the area of Yang's Taichi.