Description.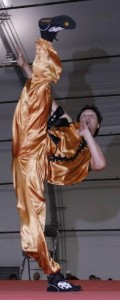 Master Daniel Tomizaki was born and raised in Brazil. He started practicing kung fu in 1980 under Sifu Dirceu Camargo and Master Li Wing Kay, studying Seven Star Praying Mantis and Eagle Claw. He was the first student in Brazil to earn a Black Belt in Seven Star Praying Mantis. In 1989, he relocated to the USA where he started leaning Choy Lay Fut under Master Tat-Mau Wong in San Francisco. He became a sifu in 1997. He is also a black belt in Shuai Chiao under Master Li Wing Kay. Master Tomizaki introduced Choy Lay Fut style to Brazil in 1992. His dedication for kung fu becomes obvious when one looks at his list of accomplishments:
31 – 1st place in forms, weapons, sparring, Lion Dance, and full contact in competitions in the USA, Canada and Brazil
8 – Grand Championship awards
4 Star International Grand Champion
Has performed in USA, Canada, Brazil and Singapore
Has traveled and trained at the Shaolin Temple
Has been teaching kung fu to kids, adults and seniors for over 30 years.