Description.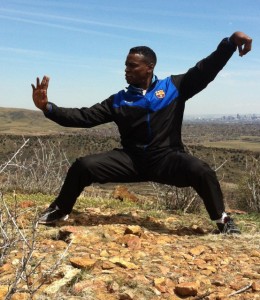 Master Christophe Clarke
* World Renowned Tai Chi Master, Three-Time U.S. National Champion, South American Champion, World Champion South Korea, and Kung Fu Film Star *
Master Clarke won the Heavyweight Traditional Fighting division at the first U.S. National Kung Fu Tournament held in 1986 in Houston, Texas. This was a historical event for Chinese martial arts. In 1987-89, he dominated the Heavyweight Push-Hands division.
In 1989, representing the U.S. Team in international competition, Master Clarke won the Heavyweight Full Contact division at The Asian Cup, held in Seoul Korea, earning the World Championship title. He was a member of the 1996 U.S. team at the South American Championship held in Sao Paulo, Brazil, winning two gold medals and three silver medals.
After winning the World Championship title and concluding his training tour in Russia, Master Clarke retired from competition to dedicate himself to educating others on the mental, spiritual, and emotional lifestyle changes needed to experience rejuvenation and reach great levels of achievement. His commitment to helping people attain true life balance, reach their goals, and live a better quality of life is undisputed.
Master Clarke conducts seminars around the world, focused on both motivational speaking issues and traditional martial art technique. And, of course, he promotes Tai Chi and "The Clarke Method" worldwide.
Master Clarke owns and operates a studio in Englewood, CO (Rocky Mountain Movement) and also travels the globe as a master teacher. For more information, check out his school and personal websites at:
www.RockyMountainMovement.com
www.MasterClarke.com